Winter Fun
Dropping temperatures don't mean a drop in the action! Michiganders are no strangers to fun in the snow, and Downtown Tecumseh has you covered for exciting winter events! From rentable snowshoes to festivals, the colder months of the year are still a great time to join us downtown for food or fun!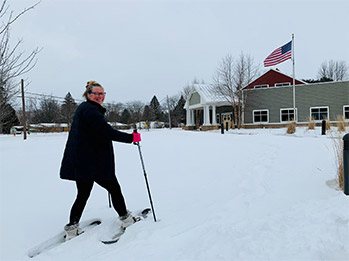 Snowshoeing
Fresh air, fun, and exercise; snowshoeing is a great way to explore the outdoors in the winter and it's as simple as walking! Take in the natural beauty of Michigan blanketed in snow and burn plenty of calories while you're at it. We have snowshoes designed to fit men, women, and children.
Snowshoes and poles are available to rent (weather dependent) on a daily basis for $10 or $20 for the weekend.
Call the Recreation Department for all the details at 517-423-5602.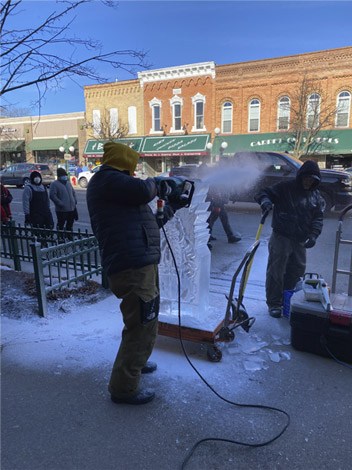 Ice Sculpture Festival
Tecumseh's Annual Ice Sculpture Festival takes place across the downtown area. Artists carve out sculptures live, letting you see art in action. Who knows, you may even get to recommend a design to be made right in front of your eyes!
Typically featuring dozens and dozens of ice sculptures for you to enjoy, people visit from all over the area to see what new and exciting creations our local artists have to display.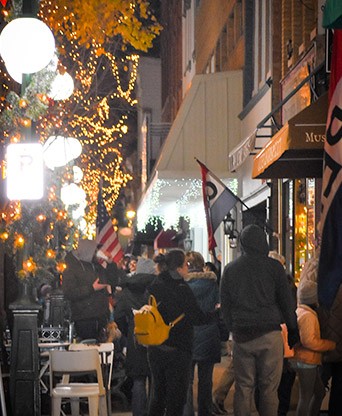 Holiday Open House
Revel in the spirit of the holiday season as your favorite Tecumseh stores kick off a holiday tradition, during our annual Holiday Open House. Join our merchants as they unveil their holiday finery with your gift giving in mind. Choose from a fantastic selection of specials and savings, as every shop prepares for the holiday season.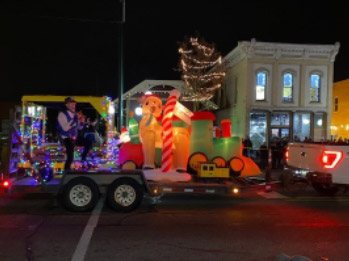 Christmas Parade & Santa
The 2022 Downtown Tecumseh Christmas Parade is on Friday, December 2nd and the parade starts at 7pm. The parade can be seen throughout the downtown area running from S. Maumee to S. Union along Chicago Blvd.
Be on the lookout for Santa Clause riding in the parade! Santa Clause can also be visited at the Santa House, located at the corner of Chicago Blvd and Pearl St, after the parade and other times throughout the holiday season.
Moonlight Holiday Shopping
Many shops open until 8:00 pm! Come shop historic downtown Tecumseh for your last minute holiday items.
Participating merchants may have in store specials of their own, special activities or refreshments.