Beyond Downtown
The bustling downtown area of Tecumseh is just one part of our amazing city. Beyond Downtown Tecumseh lies a welcoming community brimming with exciting opportunities! There's more art, more shopping, more food, and more fun to be had anywhere in the Tecumseh area. Learn more about what you can find around the city we call home.
AJ Smith Recreation Center
Tecumseh Parks and Recreation offers many programs at the new AJ Smith Recreation Center.
Southern Michigan Railroad
Tecumseh and Clinton have been linked by the railways since 1853. Enjoy the beauty and wildlife of Lenawee County from a different perspective. Climb aboard the 1926 South Shore passenger car, or you can hop on a 1959 gondola car for an open air ride. Both cars are guided down the tracks by a 44 ton locomotive built in 1943. You'll be shouting "All aboard" before you know it!
The Southern Michigan Railroad Society makes all this possible by running the volunteer, interactive railroad museum. The railroad is open from mid-May through late September.
Fall colors in Lenawee County may be viewed as the train winds south from Tecumseh during the month of October aboard our "Fall Color Tours." The railroad, almost 14 miles long, crosses the River Raisin twice as it winds its way through scenic countryside from the station at 320 Division Street in Clinton to the railroad's depot at Raisin Center.
Call the Southern Michigan Railroad at 517-456-7677 for all the details.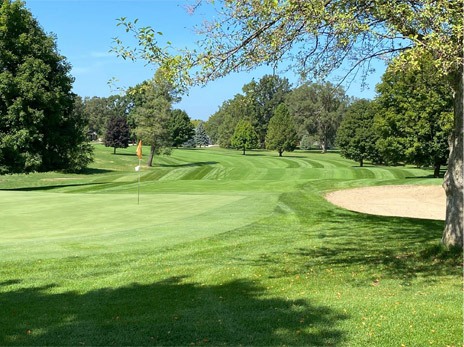 Tecumseh Country Club
The Tecumseh Country Club has been serving club members since 1948. The central focus is 18 holes of superbly maintained fairway and outstanding greens. At par 72 and 3 sets of tee positions (5400 yds. to just over 6600 yds. from the tips) this club welcomes all levels of golfers. A typical round takes 3 ½ hours to play and you won't feel rushed to finish. This beautiful course has pine, maple and hickory trees lining the fairways, and the well-maintained greens are fast and roll true. The club is located at 5200 Milwaukee Road on the north side of the city.
Call 517-423-3930 for details.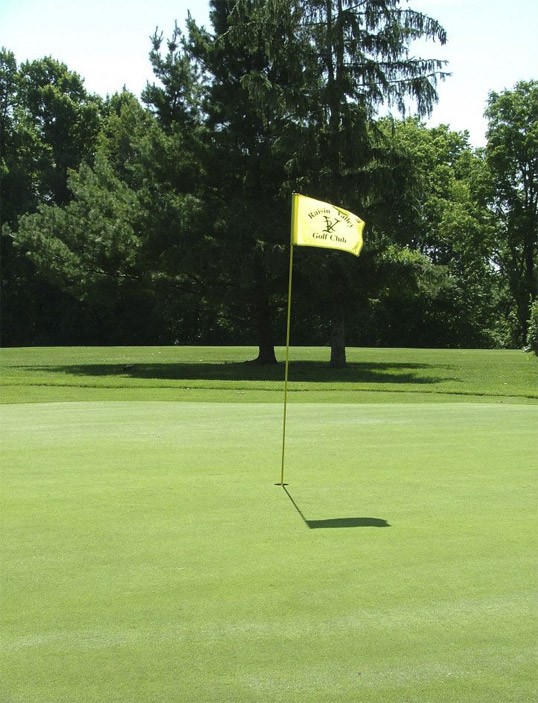 Raisin Valley Golf Course
Since 1967 Lenawee County residents have been playing the greens at the Raisin Valley Golf Club. Take in the splendid scenery of the Raisin River as you look for your ball in the rough (just kidding about the rough, however not about the scenery, it really is splendid). Listen to the meadow larks as you tee off on number five. You might have to wait for a deer to cross the green before you can birdie at number eleven. Golf offers you the chance to concentrate, contemplate, and absorb the surroundings.
Once you have finished your golf game, head over to the Club House to round out your day. You'll find the latest in golf clubs and accessories, not to mention expert advice on how to use everything to maximize your next round. Need to fine tune that swing? Lessons are available. Perhaps you just want to relax and grab a bite to eat. The Bar & Grill offers a great selection of sandwiches and liquid refreshments.
Call 517-423-2050 to reserve tee times.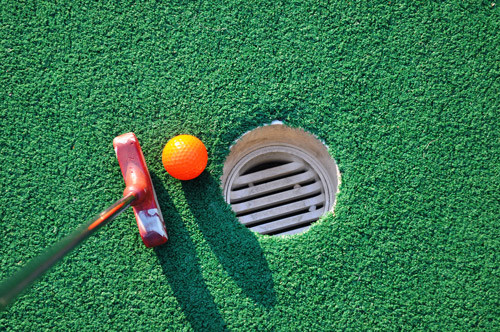 Stone Mountain Family Fun Center
Stone Mountain Family Fun Center is a great time for all ages. Grab your club and enjoy a rousing game of putt-putt golf including a waterwheel, stream and cave. Afterward grab a pizza at the pizzeria and an ice cream treat. Promises to be a fun time for the whole family.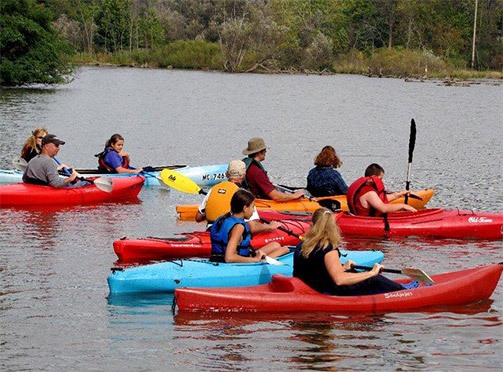 Canoes, Kayaks, & Paddle Boards
If canoeing, kayaking and paddle boarding are a favorite pastime, you can enjoy a fun afternoon paddling on the Globe Mill Pond or take a "paddle" up the raceway. Paddle along the Standish Dam, Globe Mill Pond or up the Raisin River. Enjoy the day as you paddle along the River Raisin Run with nearly 3 miles of waterways to explore.
River Raisin Run
One of the most scenic features of Indian Crossing Trails is the River Raisin and now you can enjoy its beauty from an entirely new perspective, on the water! The River Raisin Run is a looped water trail nestled into the heart of Indian Crossing Trails. Grab your canoe or kayak and launch from Globe Mill Pond or below Standish Dam. You can enjoy nearly three miles of waterways and end your paddling excursion right back where you started from. Take in the splendor of a natural Michigan forest, filled with native plant species and wildlife. Make sure you bring your camera, Indian Crossing trails is home to; deer, fox, egrets, owls, plenty of small critters, and if you're lucky, you may even see the bald eagle that have taken up residency at Globe Mill Pond.
Don't have a canoe or kayak? No worries, you can rent one rent at the Tecumseh Paddling Company at 703 E. Chicago Blvd. Call Mark and Jen at 517-423-2700 for more information regarding watercraft rentals, guided excursions and rental rates.
Walking & Biking Paths
The Kiwanis Trail
You can start your bike trip on Occidental Hwy., south of Tecumseh and enjoy seven miles of paved biking trails that end at Adrian's Trestle Park.
Over 6 Miles of Walking & Biking Paths
Russel Road to Patterson Street Trail
West Chicago Boulevard to Streetscape Pathway
Brown Street Pathway
Evans Street Pathway
Evans Creek Trail
North Evans Trail
Bird/Evans Creek Trail
Indian Crossing Trails
North Occidental Highway Pathway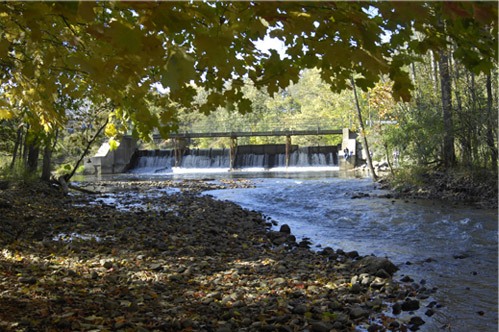 Fishing
During the spring and summer... and even fall you may catch a glimpse of a grandfather and grandson enjoying the day making special memories while fishing on the shores at the Standish Dam, Globe Mill Pond, at Monument Park, on Raisin River or at Tecumseh Park "The Pit". Grab a fishing pole and a lawn chair... these are the moments that you will cherish for a lifetime.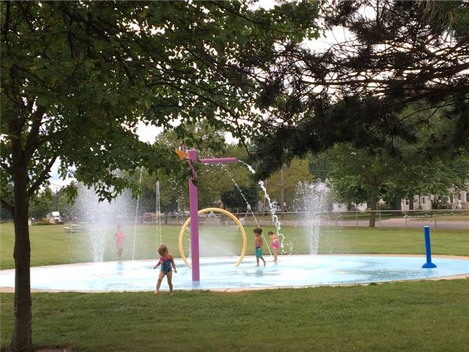 Swimming
Tecumseh Park "The Pit" – Bring the whole family, pack a picnic lunch, grab a lawn chair and your sunscreen and enjoy a day of fun in the sun at Tecumseh Park located on South Adrian Street.
Splash Pad – On any given summer day you can hear the giggles of small children enjoying the Splash Pad at Cal Zorn Park on the corner of Russell Road and South Evans. Parents watch as children cool off from the summer heat. The covered pavillion offers a great opportunity for picnics and reunions with family and friends.
Tecumseh Community Pool offers open swimming during scheduled hours. The indoor pool offers the chance to swim rain or shine. It is located at the Tecumseh Middle School at 307 North Maumee Street.
Please call for the open swim schedule 517-423-5585.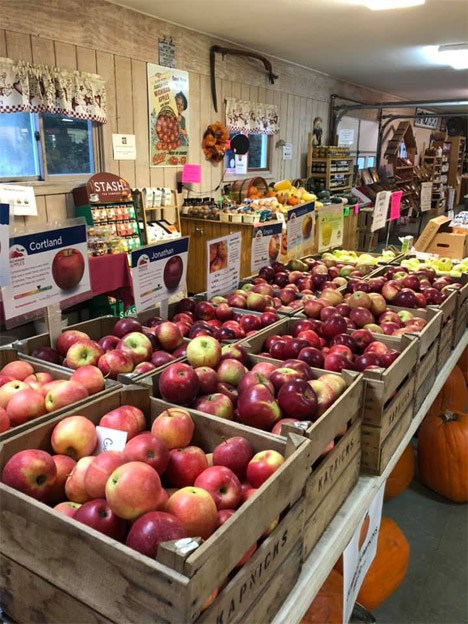 Orchards & Cider Mills
There are many orchards in region offering a great family experience! Many offer delicious bakery items as well as fresh fruits and vegetables. Fall is a great time of year to enjoy the orchard experience from delicious cider to u-pick apples and pumpkins. Enjoy a wagon ride through the orchards in the crisp autumn air.
Kapnick Orchards
4245 Rogers Hwy., Britton
517-423-7419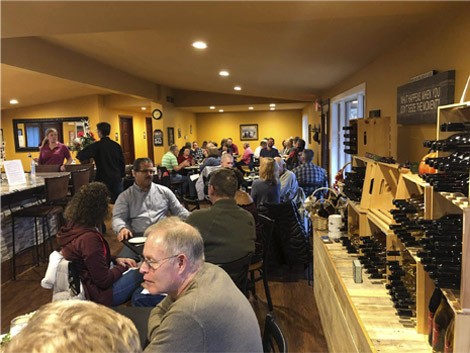 Pioneer Wine Trail
Blaze a new path in the adventure you call life, and discover the Pioneer Wine Trail. Seven wineries offer you ten locations to fully experience the wines of southeast Michigan. Wine tasting rooms, wine making classes, gift shops, and motor coach tours all round out your experience. The wineries that make up the Pioneer Wine Trail are open throughout the year, ready to offer you four seasons to enjoy their hospitality and unique charm. By the way, did we mention wine?
Beyond Tecumseh
Around the city of Tecumseh is a wealth of adventure for you to explore. Once you've seen what our downtown and surrounding area has to offer, make sure not to visit some of these exciting locations nearby!
Ann Arbor
Tecumseh's proximity to Ann Arbor makes it a great addition to your visit. In just a short 45 minute drive from Tecumseh you can enjoy all the activities that Ann Arbor has to offer. A visit to the University of Michigan Matthaei Botanical Gardens and Nichols Arboretum or the Museum of Natural History is fun family activity. The Kerrytown Market & Shops and the Ann Arbor Street Fair are great summer time activities. And, of course, in the fall the "BIG HOUSE" comes to life with great football rivalries.
Cabela's
Michigan is an outdoor lover's paradise. Great lakes, rivers, streams, national forests, parks, abundant wildlife, the list goes on. It's no wonder Cabela's decided to open their largest retail store to date, in southeast Michigan. Dundee is home to the 225,000 square foot showroom, featuring outdoor sporting merchandise, workshops on subjects from archery to fly tying, and a unique dining experience at the Cabela's Restaurant & Delicatessen. Where else in Michigan can you sink your teeth into a bison bratwurst, or a deli sandwich created with elk, wild boar or ostrich? After lunch, the entire family will enjoy the fantastic wildlife dioramas, on display throughout Cabela's.
Located 15 miles east of Tecumseh in Dundee at 110 Cabela Boulevard just off U.S. Highway 23. Call 734-529-4700 for more information.
Dark Sky Preserve
Lake Hudson has been designated a dark sky preserve for observation of the nighttime sky. How are the sky conditions? For South-Eastern Michigan, this is as good as it gets. The Milky Way is visible and pronounced. There is minimal sky glow from Detroit to the North East, Jackson to the North, and Toledo to the East, but all faint and localized. Lake Hudson has been designated Michigan's first dark sky preserve. It is located 25 miles south west of Tecumseh in Clayton, Michigan.
Hidden Lake Gardens
When Michigan State University decides to create and manage a garden, you can bet the results will be spectacular. Lenawee County is proud to have Hidden Lake Gardens nestled into the landscape. If you want to explore the flora of southeast Michigan at its finest, this is a must see attraction. Hike the nature trails, and spend some time admiring the beauty of the perennial garden and hosta hill. The vistas are so enjoyable, many brides have chosen Hidden Lake Gardens as the backdrop for their wedding photos.
The visitor center hosts classes throughout the year, including the Master Gardener program. You can receive world class instruction through this extension program, partnering MSU and Lenawee County.
Historic Mill Tours
Tecumseh is rich in history. The Tecumseh Community Center (originally known as the Hayden-Ford Mill) greets you as you enter from the eastside of town. Its Dutch Colonial architecture, with water wheel and fieldstone front makes a grand presence. In addition to its milling history, the mill was once used as storage for soy beans by Henry Ford's Macon farming operations and during WWII to make parts for the B-24. Within an approximate 25 mile radius you can enjoy a leisure drive by ten historic mills steeped in rich historical significance. Visit www.motorcities.org
Irish Hills Area
Irish Hills – Tecumseh is just a short drive from the beautiful Irish Hills, which is home to many lakes that offer swimming and fishing opportunities.
Michigan International Speedway
Ever feel like getting together with 140,000 of your closest friends? Michigan International Speedway provides you with that opportunity during the NASCAR race season, right here in Lenawee County. For over three decades, folks have been enjoying first class entertainment in Michigan's Irish Hills. You don't need to be a race fan to recognize names such as Petty, Unser, Earnhardt, Gordon and Johnson.
Speed, power, excitement; Michigan International Speedway roars into action each year, and invites you and your family to experience the largest single day, paid admission sporting event in Michigan.
Milan Dragway
If you feel the need for speed then you are in luck! Milan Dragway is a 20 minute drive. Race cars and motorcycles heat up the quarter mile track as the crowds cheer them on. Talk about an adrenaline rush! Visit the website for event and series schedules.
Toledo
Making your way south towards Toledo is easy and takes only about 45 minutes by car. Toledo is Ohio's northwestern hub for shopping, fun, food and more! The choices are endless in this big city just a hop away from home.
Some of Toledo's top attractions are the Toledo Museum of Art, an expansive zoo, Fifth Third Field, and plenty more.